Project Assessment Framework
The Project Assessment Framework (PAF) sets the foundation for ensuring that project evaluation, procurement and delivery activities are undertaken effectively and efficiently across the Queensland Public Sector, and that the State Government achieves value for money from its investment in projects.
The framework defines generic project stages and includes guidance material to support each stage. It also includes a Gateway Review Process (PDF, 315KB) that promotes independent reviews at the completion of key project stages providing quality assurance that projects are positioned to successfully progress to the next stage.
Illustration of the key project stages under the Project Assessment Framework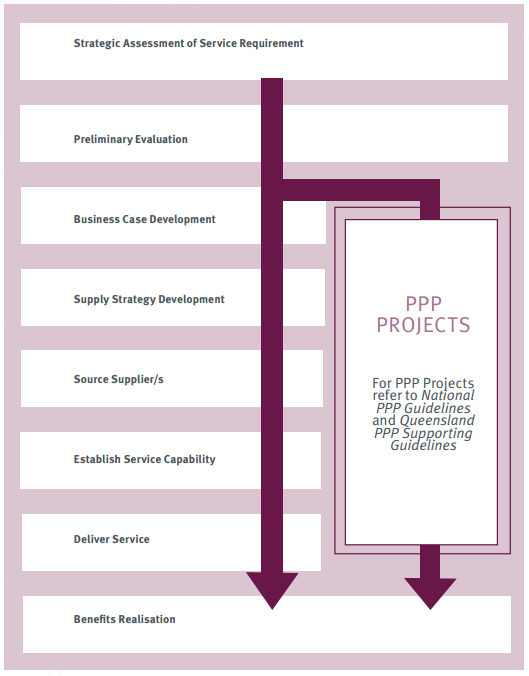 In delivering certain projects, there may be significant opportunities for Department of Transport and Main Roads to drive value for money through a Public Private Partnership (PPP). A PPP is a risk sharing relationship between the public and private sectors to deliver timely public infrastructure and related non-core services. The specific nature of each partnership will be defined through a contractual agreement covering the delivery of infrastructure facilities over a period of time.
The potential for the infrastructure and /or service provision component of a project to be delivered as a PPP project is determined during the preliminary evaluation stage of the PAF, after:
the service requirement has been identified as a priority
the set of options generated to meet the service requirement strongly indicates an infrastructure solution.
Prior to the development of the Project Assessment Framework, the Queensland Government had previously released its PPP Policy in September 2001 with the Value for Money (VfM) Framework and related guidance materials launched in December 2002. These documents are available from the Department of Infrastructure and Planning.
The objectives of the state's PPP policy are to:
deliver improved services and better value for money through appropriate risk-sharing
encourage private sector innovation
optimise asset utilisation
integrate whole-of-life management of public infrastructure.
The VfM framework supports existing project evaluation, procurement and delivery processes through each stage of a project being progressed as a potential PPP to ensure the objectives of the Government are delivered by the procurement mechanism best able to deliver value for money.
All project proposals, whether developed by government or the private sector, must be consistent with the government's planning principles.
Project Evaluation is a function of Strategic Investment and Asset Management within the Portfolio Investment and Programming Branch. The Project Evaluation unit ensures that the department's project evaluations are robust and undertaken in accordance with the Queensland Government's Project Assessment Framework (PAF and Value for Money Frameworks) in relation to the evaluation, procurement and delivery of major infrastructure projects. The Unit plays a key role in providing advice to the TMR Project Owner and TMR approval to ensure that investment decisions are fully aligned with the department's strategic objectives, and seek to maximise value for money solutions.
For further advice on the Project Assessment Framework and Public Private Partnerships, please contact Project Evaluation Unit on (07) 3066 7207.
Last updated 06 June 2022