Pest management
It is the department's responsibility to reduce the infestation of declared pests on road reserves and we manage pests (plants and animals) on lands under our control.
This land includes:
state-controlled road network
borrow pits
quarries
workshop/office complexes
depots
other properties.
A declared pest is any plant or animal species that is listed under the Land Protection (Pest and Stock Route Management) Regulation 2003.
The control of pests has significant benefits for Queensland. There are serious economic, environmental and social impacts of failure to adequately manage the problem. All of our pest control activities are in accordance with the requirements of Queensland legislation and government policy.
Pest management gallery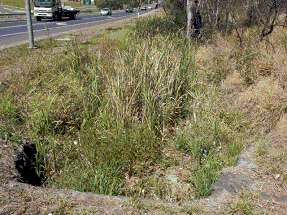 A culvert infested with weeds (above).
Further information on pest management is available from the Department of Agriculture and Fisheries.
Last updated 12 January 2022