Bruce Highway - Deep Creek to Sleeper Log Creek Project Construction Update April 2020
The Bruce Highway widening and intersection upgrades - Deep Creek to Sleeper Log Creek project will deliver vital improvements to road safety on the Bruce Highway between Townsville and Ingham.
The upgrades will improve visibility, accessibility and safety for local and highway motorists.
The project is making good progress and is on target for a late June 2020 completion. This month's construction update provides some great news about works that have been completed and works nearing completion.
Completed project milestones
Construction milestones that have been completed to date include:
Opening of the new Toolakea Beach Road access
Completion of the Ditton Street extension from Bluewater Drive
Completion of the Feldt and Ditton Street intersection (one-way traffic from Bluewater State School)
Completion of the southbound overtaking lane near Sleeper Log Creek
Opening of the new Bluewater Drive and Bruce Highway intersection.
Upcoming project milestones
Forestry Road intersection
Improvements to the Forestry Road intersection include dedicated turning lanes in all directions to improve visibility and access and improve safety for local traffic movements.
This month traffic has been switched to the southern side of Forestry Road in order to continue improvement works. While these works are taking place, traffic on the highway will be redirected to the northbound side (without closing any lanes) so that pavement work on the south side can be completed. There will continue to be minor traffic disruptions at various times until the Forestry Road intersection is completed in June.
Bruce Highway asphalting night works
Asphalting night works are currently underway throughout the work site. Major sections of the Bruce Highway have been completed from Deep Creek to Bluewater Station Road and north of the new Toolakea Beach Road intersection. Asphalting between Bluewater Station Road and Toolakea Beach Road will occur in late May.
Linemarking, guardrail installation, sign installation and other finishing tasks will be undertaken following completion of asphalting.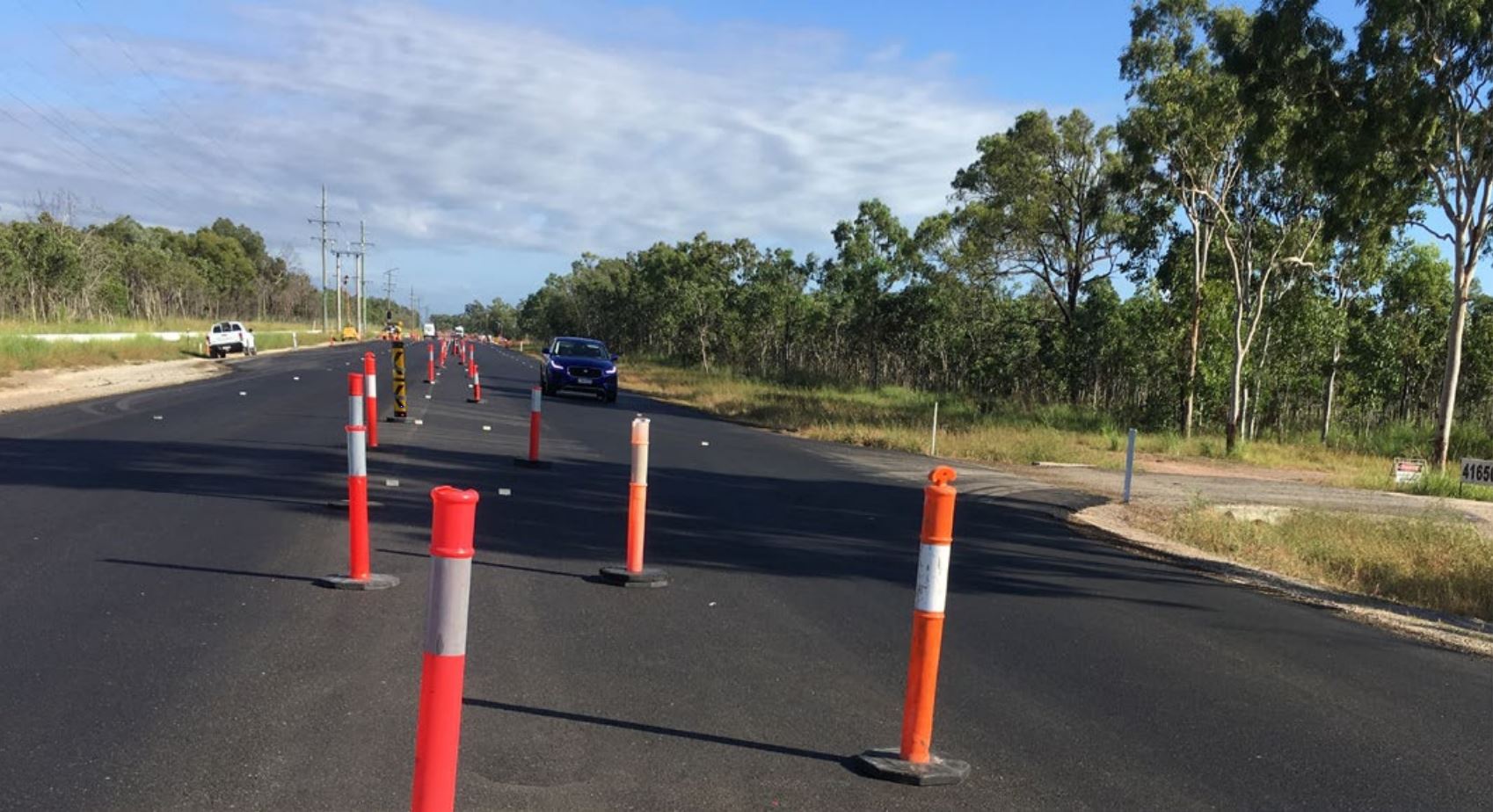 Image: New asphalt on the Bruce Highway north of Bluewater Creek Bridge
Bluewater Drive and Bruce Highway intersection– final concreting and linemarking
The newly completed Bruce Highway and Bluewater Drive intersection provides dedicated turning lanes in all directions, improving visibility and increasing safety for traffic accessing and exiting the highway. Line marking at the Bluewater Drive intersection will be completed in early May 2020, with plans to construct traffic islands and concrete barriers by late May 2020.
Bluewater Station Road
Traffic has been moved to the inbound side of Bluewater Station Road so that the outbound side and adjacent highway can be widened. Changes to the Bluewater Station Road intersection include construction of dedicated turning lanes, pavement widening for improved access and new drainage and streetlights. The Bluewater Station Road intersection is due for completion late May 2020.
New Toolakea Beach Road entry statement and revegetation of old Toolakea Beach Road
The new Toolakea Beach Road has now opened to road users and the old Toolakea Beach Road will soon be revegetated to match the surrounding landscape.
The existing road pavement will be treated and replanted with native plant species. The revegetation will be carried out in conjunction with the Toolakea Beach Entrance Statement and the Bluewater
Township Entry treatment.
The Toolakea Beach Entrance Statement will contain gardens and 'Toolakea Beach' sign similar to that of the previous entry statement.
The Bluewater Township Entry Treatment contains line marking and signage to highlight the reduced 80km/hr speed limit through Bluewater. All work is due for completion in June 2020.
Working during COVID-19
The Department of Transport and Main Roads is keeping work flowing for the Bruce Highway (Deep Creek to Sleeper Log Creek) project and others like it, by investing in the community during this difficult period.
Throughout the project, the Bruce Highway Upgrade is supporting more than 61 jobs at a time when maintaining jobs has never been more critical.
TMR are also undertaking extra measures to reduce the risk of COVID-19 spread and infection. These include:
Frequent cleaning of offices and common areas.
Posting of notices with COVID information and prevention throughout the workplace for staff.
Increased social distancing - maintaining a distance of 1.5m or 4m2 per person.
Minimising the number of employees at the project site office by allowing staff to work off site.
Site inspections involving only the minimum number of people while maintaining the 1.5m separation distance.
Meetings with stakeholders only via non face to face methods.
For the most up-to-date information on COVID-19 including government support, visit covid19.qld.gov.au.
Bruce Highway speed limit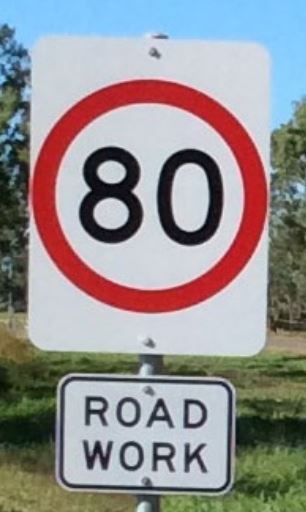 As residents are aware, TMR has reduced the speed limit along the Bruce Highway between Deep Creek and Sleeper Log Creek from 100km/hour to 80km/hour, and down to 60km/hr during active work hours, while upgrade works are completed.
TMR has also recently dropped the speed to 40km/hr over the Bluewater Creek Bridge while works are taking place on the north side of the bridge and single lane closures are in place.
Please proceed with care through the works zone and always pay attention to the direction of traffic controllers in the area.
The Bruce Highway – Deep Creek to Sleeper Log Creek project is jointly funded by the Australian and Queensland Governments under the Bruce Highway Upgrade Program.
For more information and to view the plan of the Bruce Highway - Deep Creek to Sleeper Log Creek project visit http://www.tmr.qld.gov.au and select Bruce Highway (Bluewater) in the Projects section or contact:
Customer and Stakeholder Management Northern District TMR office
Phone: 1800 625 648
Email: engagement.northern@tmr.qld.gov.au
Website: www.tmr.qld.gov.au
*Free call from anywhere in Australia. Call charges apply for calls from mobile phones and payphones.