Isis Highway (Bundaberg-Childers), construct overtaking lanes
The Roads of Strategic Importance (ROSI) initiative involved providing a southbound (Bundaberg to Childers) overtaking lane on the Isis Highway near Bundaberg.
The overtaking lane, between Park Estate Drive and the Wyper Park Scout Camp turn-off, will improve safety and travel efficiency.
Works also included the installation of a dedicated right-turn lane for the service road/scout camp access road. The dedicated right-turn lane will improve safety by separating through and turning traffic and reducing the potential for rear-end crashes.
Benefits
Improves safety
Improves network efficiency
Accessibility
Reduces travel time
Contributes to economy
Contributes to regional growth
Reduces maintenance
Improves ride quality
Key features
A southbound overtaking lane on the Isis Highway at Branyan.
Dedicated right-turn lane at the service road/scout camp access road.
Funding
The project is jointly funded by the Australian and Queensland governments on an 80:20 basis.

Investment ID 1219392
Total investment

$5 million
Australian Government

$4 million
Queensland Government

$1 million
Current status
Construction was completed in June 2021, with a supplementary seal scheduled for September/October 2021 to finalise the project.
Project map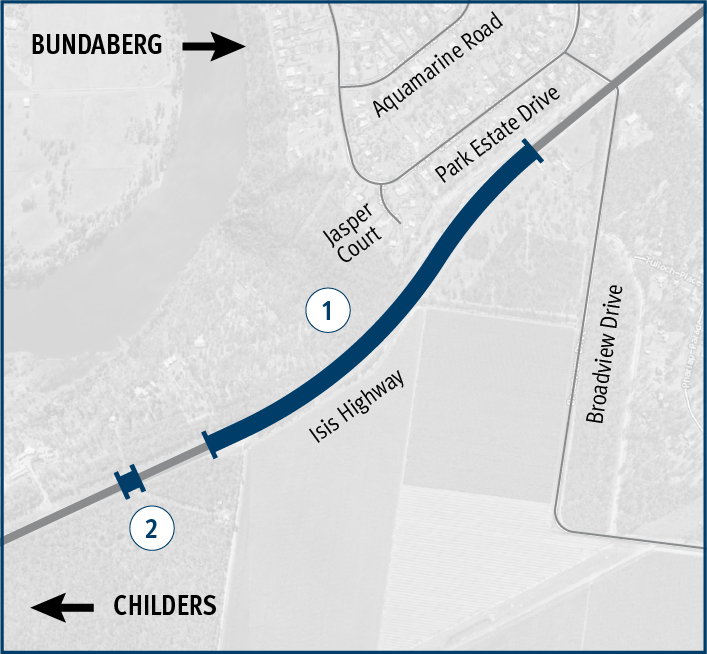 Southbound overtaking lane
Dedicated right-turn lane