Townsville Ring Road Stage 5
The Bruce Highway - Townsville Ring Road Stage 5 (TRR5) project is progressing and will deliver improved road safety, efficiency and travel time reliability for freight and passenger vehicles on the Bruce Highway in Townsville. 
The Townsville Ring Road is a section of the Bruce Highway route through Townsville, forming part of the National Highway which is Queensland's primary freight, passenger and tourism corridor. It also connects Townsville's suburbs to key employment nodes and essential services.
Most of the Townsville Ring Road is 4 lanes wide, however around 6km is currently 2 lanes wide (between the Vickers Bridge, Douglas and Shaw Road, Bohle Plains).
The TRR5 project will duplicate this remaining 2 lane section to 4 lanes and will also provide an interchange with Beck Drive which connects to the growing Upper Ross area.
When the TRR5 project is complete, the entire 36km Bruce Highway link through Townsville (extending from Stuart in the south to Jensen in the north) will be at 4 lane standard (that is, 2 lanes in each direction).
The TRR5 Business Case was approved in October 2019 following initial planning which included traffic modelling, environmental investigations, on-ground surveys and hydraulic modelling.
In August 2020, we awarded a contract to Georgiou AECOM consortium to design and construct the TRR5 project. Design is now underway.
Benefits
Improves safety
Improves network efficiency
Reduces peak hour congestion
Contributes to economy
Key features
Duplication of a 6km, 2 lane section of the Townsville Ring Road between Vickers Bridge and Shaw Road.
Duplication of bridges over Bohle and Little Bohle Rivers.
Duplication of overpass bridges at Beck Drive and Hervey Range Road.
A new interchange for Beck Drive, linking the Bruce Highway and the Upper Ross area.
Changes to the existing Riverway Drive interchange to ensure its safe operation with the new Beck Drive interchange.
Installation of drainage for flood mitigation.
Installation of Intelligent Transport Systems (ITS).
Noise mitigation measures.
Environmental considerations.
Funding
The project is jointly funded by the Australian and Queensland governments on an 80:20 (federal:state) basis.
Total investment

$230 million
Australian Government

$184 million
Queensland Government

$46 million
Current status
In August 2020, we awarded a contract to Georgiou AECOM consortium to design and construct the TRR5 project.
Construction is expected to commence by mid-2021, with completion in early 2023, weather and construction conditions permitting.
Stakeholder engagement with surrounding and impacted landowners is underway and will continue throughout the project.
Current layout plan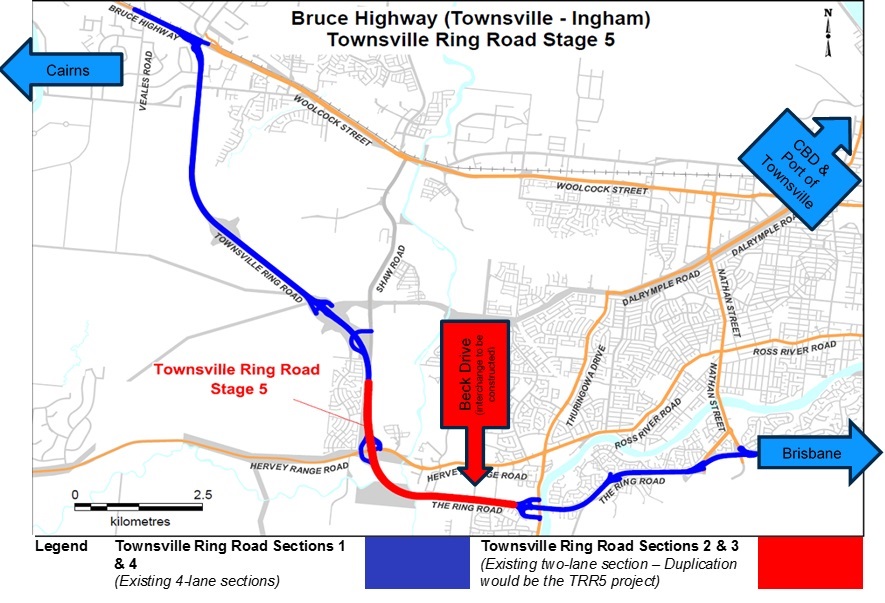 Delivering the project under a 'design and construct' model allows some overlap between design and construction phases. That means construction can begin on sections of the project while detailed design on other sections continues.
As the design progresses, the project team will have more information regarding the detail of the TRR5 project, in addition to its key features. While the project footprint (the land on which it will be built) will not change, more detailed information will become available including pedestrian infrastructure, noise mitigation, lighting, drainage, fencing, and environmental-mitigation measures.
Sustainability Policy
The Department of Transport and Main Roads appointed Georgiou AECOM consortium to deliver the design and construction of the Townsville Ring Road Stage 5 (TRR5) project. As a Principal Contractor, Georgiou Group with their sub consultant AECOM is also responsible for ensuring the TRR5 project design achieves an Infrastructure Sustainability (IS) rating level of Excellent.
About the Infrastructure Sustainability rating
The IS rating scheme for infrastructure was developed and is administered by the Infrastructure Sustainability Council of Australia (ISCA). The scheme is Australia's only comprehensive rating system for evaluating sustainability across design, construction and operation of infrastructure. The scheme scopes whole-of-life sustainability risks for projects and assets, fostering resource efficiency, waste reduction, innovation and continuous improvement. As part of the Queensland Government's vision to build innovative and resilient infrastructure, infrastructure projects over $100 million must have a sustainability policy to achieve an IS Rating.
TRR5 Sustainability Policy
The TRR5 Sustainability Policy is based on Queensland Government's vision, Transport and Main Roads' sustainability commitments, and project specific sustainability objectives and targets. The TRR5 project will achieve an IS rating by:
Embedding environmental and sustainability outcomes by establishing sustainability objectives and targets.
Working closely with customers, stakeholders and local communities to achieve resilient outcomes for all road users and society.
Adopting decision making processes that are industry recognised to integrate economic, social, environmental and governance into design and construction practices.
Preparing for the challenges presented by climate change by undertaking climate change workshop(s) and addressing key findings.
Addressing environmental considerations in a manner sensitive to the needs of stakeholders and the environment to enhance environmental outcomes wherever practical.
Promoting safer workplaces through innovation and collaboration through effective planning and management of risks.
Enhancing workforce health and wellbeing, through inclusion, diversity and employee empowerment plans such as indigenous employment programmes.
Sourcing sustainably and ethically, prioritising local industry participation, social procurement initiatives and committing to avoiding modern slavery.
Encouraging innovation among project delivery teams to achieve sustainable and measurable outcomes.
Reporting on sustainability performance and being accountable for meeting environmental and social responsibilities.
Supporting the United Nations Sustainable Development Goals by achieving an ISCA Design and an As Built rating of Excellent.
Enhancing the local ecosystem by developing and implementing a Grassland Rehabilitation Plan.
Committing to a reduction in the use of potable water where possible.
Minimising waste by using the implementation of the waste hierarchy of avoidance, reduction, reuse and recycling.