Warrego Highway—Mount Crosby Road Interchange Upgrade
We have undertaken community consultation on the proposed Warrego Highway – Mount Crosby Road interchange upgrade. The proposed design is intended to improve traffic flow, reduce queuing and increase safety for motorists using the Mount Crosby Road interchange.
In July 2017, we completed a planning study into the traffic congestion, safety and active transport issues at the Warrego Highway and Mount Crosby Road interchange. The study identified an option to improve safety, reduce queuing along Mount Crosby Road and improve traffic at the Warrego Highway – Mount Crosby Road interchange.

The design of the proposed upgrade currently includes:
increased capacity on the southern (North Tivoli) roundabout with an additional circulating lane.
a reconfigured and simplified northern (Chuwar) roundabout. This includes the addition of a slip lane for through traffic travelling north (from the Warrego Highway towards Karalee) and restricting access to/from Coal Road.
a dedicated pedestrian and bicycle bridge over the Warrego Highway to the west of the Mount Crosby Road overpass.
The proposed project design was based on the findings of the 2017 planning study and seeks to address the community's safety concerns and reduce congestion.
Benefits
Improves safety
Increases capacity
Improves network efficiency
Increases traffic flow
Reduces peak hour congestion
Reduces interchange queuing
Reduces travel time
Better active transport
Key features
Improved traffic flow, reduced congestion and increased safety for motorists using this section of the Warrego Highway.
Reduced queuing at both Mount Crosby Road roundabouts.
Increased safety for pedestrians and bike riders.
Funding
The Mount Crosby Road interchange has been identified in the
Queensland Transport Roads and Investment Program 2019-20 to 2022-23
as a priority project as part of the $400 million Warrego Highway funding commitment by Australian and Queensland governments.
Community Feedback
This input will inform the scope and design of the project, the subsequent business case and time-frame for project delivery.
Once all feedback has been collated and analysed, the community will be informed of the consultation outcomes.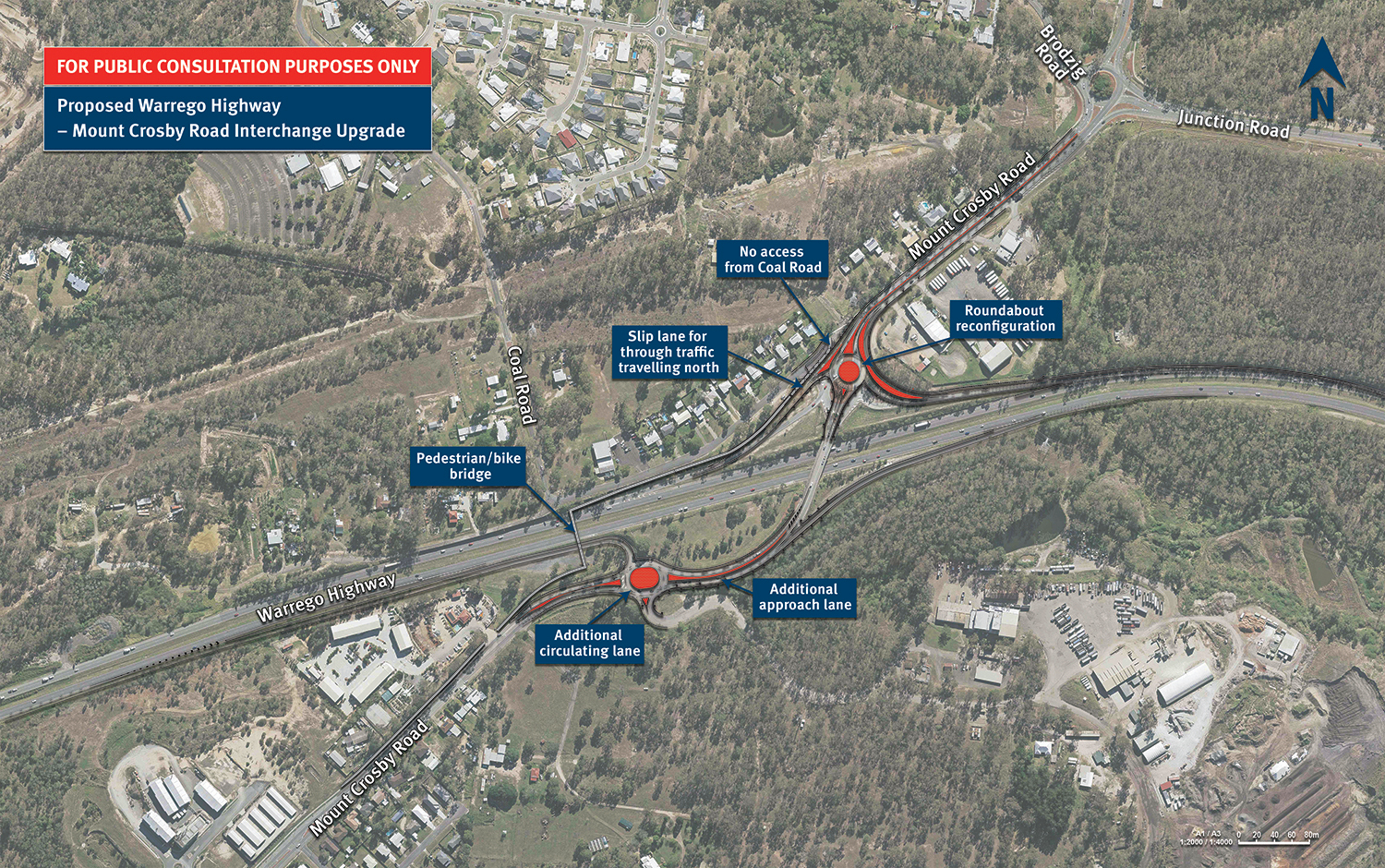 View larger image of proposed upgrades at the Warrego Highway Mount Crosby interchange.

View larger image of proposed upgrades at the Warrego Highway Mount Crosby interchange