Australasian New Car Assessment Program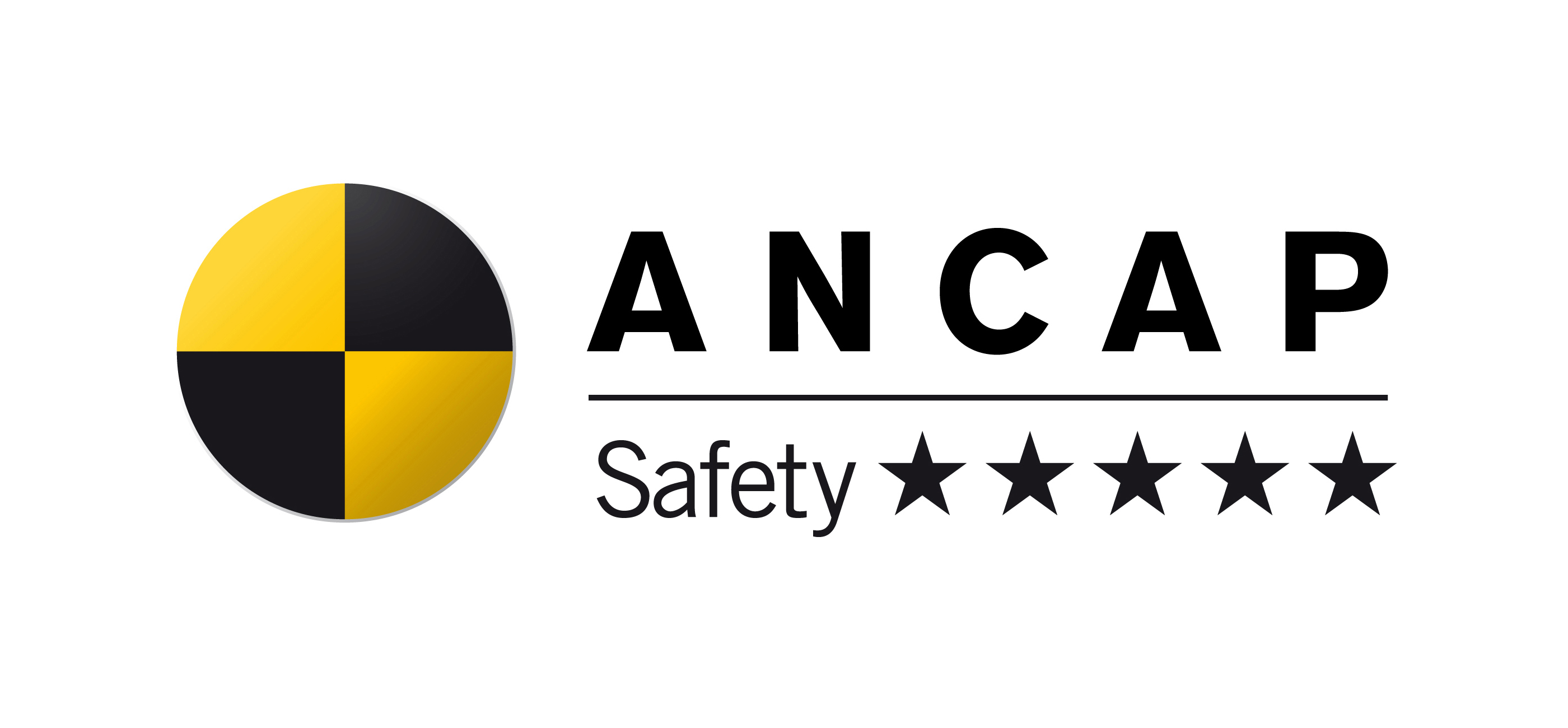 The Australasian New Car Assessment Program (ANCAP) is Australasia's leading independent vehicle safety advocate.
ANCAP provides Australian and New Zealand consumers with independent vehicle safety information through the publication of ANCAP safety ratings. ANCAP safety ratings take into account the level of occupant and pedestrian protection provided by new cars through the conduct of physical crash tests and the assessment of collision avoidance technologies.
The more stars, the better the vehicle performed in ANCAP tests. To achieve the maximum 5 star ANCAP safety rating, a vehicle must achieve the highest standards in all tests and feature advanced safety assist technologies.
Since 1992, ANCAP has published crash test results for a wide range of new passenger and light commercial vehicle makes, models and variants sold in Australia and New Zealand.
ANCAP is supported by all Australian and New Zealand motoring clubs, the Australian Government, the New Zealand Government, Australian state and territory governments, the Victorian Transport Accident Commission, NRMA Insurance and the FIA Foundation.
To search individual crash test results for more than 515 vehicles, learn more about safety features and technologies, and explore interactive features, visit ancap.com.au.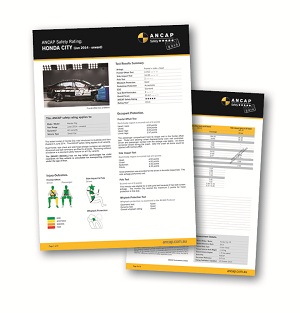 Safety testing
ANCAP uses a range of internationally recognised crash tests, undertaken by independent specialist laboratories.
In each of the physical tests, dummies are used to scientifically measure the various forces on occupants in the crash. The data gathered is then assessed in conjunction with a physical assessment of the vehicle, and a score determined for each test. In addition, vehicles must be fitted with certain safety features and safety assist technologies. These requirements are then assessed alongside the physical crash test scores with an overall score translated into an ANCAP safety rating of between 1 to 5 stars.
The higher the score and the greater the safety inclusions, the more stars.

Frontal offset test
The frontal offset test simulates hitting another car of the same mass travelling at the same speed. 40% of the car, on the driver's side, makes contact with a crushable aluminium barrier at 64km/h. Dummies in the vehicle indicate the likely injuries resulting from the crash test.
Side impact test
The side impact test consists of running a 950kg trolley into the driver's side of the vehicle at 50km/h. The trolley has a crushable aluminium face to simulate the front of another vehicle.
Pole test
In the pole test the car is propelled sideways at 29km/h into a rigid pole aligned with the driver's head. The pole is relatively narrow, resulting in major penetration into the side of the car. Curtain airbags are particularly effective in reducing the chance of serious head injury in this type of crash.
Pedestrian test
The pedestrian tests are carried out to estimate head and leg injuries to pedestrians struck by a vehicle at 40km/h. These crashes represent about 15% of fatal crashes in Australia and New Zealand—as high as 30% in some urban areas.
Whiplash test
The whiplash test is conducted in two parts - a geometric measurement of the head restraint, and a dynamic test using the vehicle seat mounted to a test sled which simulates a rear-end crash equivalent to a stationary vehicle being hit at 32km/h.
SAT assessment
In addition to minimum performance requirements in physical crash tests, ANCAP also requires vehicles to be fitted with certain safety features & safety assist technologies (SAT). These include head-protecting airbags, electronic stability control (ESC), emergency brake assist (EBA) etc.

Advancements in safety technology
In recent years, the advancements made in vehicle safety have been significant. Previously, vehicle safety focussed on passive safety features such as airbags and seat belts but with the introduction of advanced safety assist technologies, the focus has now shifted to active collision avoidance technologies.
Manufacturers have developed a range of new SAT and these are now being included in a wide range of vehicles. New physical tests and SAT assessments have also been developed by New Car Assessment Programs (NCAPs) in other countries, providing consumers with a greater amount of information on the comparative level of safety provided by new vehicles as well as encouraging manufacturers to include such technologies and structural improvements.
As a result, ANCAP's European-based sister organisation, Euro NCAP has announced significant changes to its future test program.
ANCAP's forward plan takes some of these changes and advancements into account. However given the rapid pace at which vehicle safety is moving and the need for NCAPs to acknowledge these advancements, ANCAP has adjusted its forward plan.
From 2015, ANCAP requirements will align more closely with Euro NCAP in order to provide consumers with the best technology and safest cars available.
To ease the transition, from 2015 to 2017 Australian manufacturers can choose to use either current ANCAP policies and protocols (the ANCAP pathway) or use Euro NCAP results (the EURO NCAP pathway). From 1 January 2018 ANCAP will adopt Euro NCAP protocols and will use Euro NCAP results.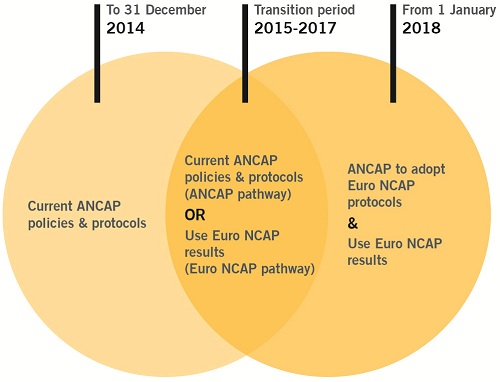 Last updated 12 July 2022