Speed camera signs pilot in school zones and roadworks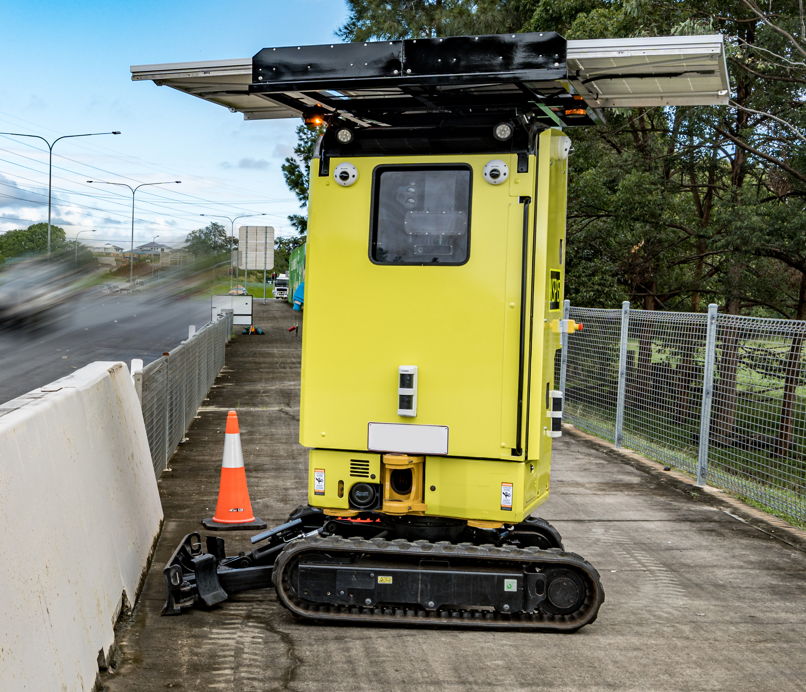 We are piloting a road safety program to deter motorists from speeding in school zones and roadworks across Queensland. The pilot will run until the end of April 2024 and use portable hi-tech speed cameras attached to powered road signs. We will use the cameras to assess if their presence impacts the speed motorists travel in school zones and through roadworks.
Motorists disobeying school zones and roadworks signs present a potential road safety risk to all road users. Speeding drivers cost lives and account for significant serious injuries on Queensland roads. Between January and August 2022, 200 lives were lost on Queensland roads. Of those fatalities, 57 people died as a result of road crashes involving speeding motorists – which is almost 30% of road deaths.
Why school zones and at roadworks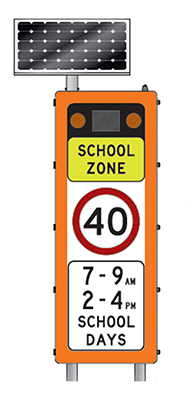 School zones and roadwork sites need special road safety treatments, such as additional signage and road markings, because they are used by some of the most vulnerable road users in our community: school children and their families, school crossing supervisors and roadworkers.
Schools are busy areas, with lots of children—who do not always understand the danger of roads and vehicles. Children can be unpredictable around roads and flashing school zone signs actively remind drivers of the presence of children and the lower speed limit.
Working next to a major highway or road, only metres away from live traffic, is dangerous work. Roadworkers may be above, below or beside the road outside of your field of vision.
A change in road conditions can increase hazards for all road users and reducing the speed limit in the area helps reduce the risk of crashes and serious injuries. This can include:
construction vehicles manoeuvring in or out of the site
changes to road conditions like temporary road surfaces during works
changes to the road alignment or debris near or on the road.
How the pilot works
The pilot program involves innovative speed camera technology integrated with speed signs. The cameras are being rotated across prioritised school zones and roadwork sites that have been identified as high-risk areas.
The pilot is designed to support existing targeted road safety treatments at these sites to minimise road safety risks.
School zones
At school zones, the cameras are attached to flashing school zone signs and operate during school zone hours. The pilot is expected to also improve safety for school crossing supervisors because the cameras are activated when a crossing supervisor enters the roadway, and can monitor and record any near-hits, traffic or road safety incidents.
Roadwork signs
At roadworks, the cameras will be mounted in a specially designed smart tracked platform. The cameras will operate 24-hours per day, 7 days a week when at roadworks.
Fines and demerit points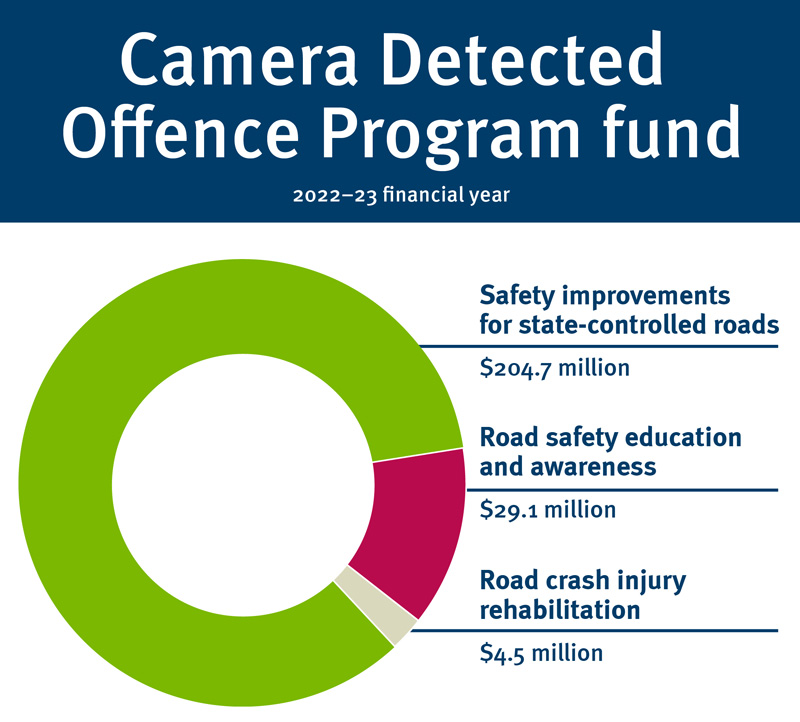 Speeding fines and demerit points may apply to motorists detected of speeding offences in school zones and roadwork sites. Find out more about camera fines and the enforcement of speeding laws in Queensland.
The money collected from camera fines is used to run Queensland's Camera Detected Offence Program and to fund important road safety initiatives, as required under the Transport Operations (Road Use Management) Act 1995.
Read more about how money collected from camera fines is used.
Managing the pilot
The Department of Transport and Main Roads (TMR) and the Queensland Police Service are managing the pilot, which is part of our Targeted Road Safety Program. Piloting this new technology to help save lives is a key action in the Queensland Road Safety Action Plan 2022–24.
All images and videos captured by the system will only be viewed by authorised personnel in the conduct of their official duties. All images and videos will be stored in compliance with all relevant privacy legislation, policies and standards, including the Information Privacy Act 2009.
More information
The Department of Transport and Main Roads supports safe school travel through the SafeST program.
Read more about school road safety programs and safety around roadworks and roadworkers.
Visit StreetSmarts to learn more about the dangers of speeding, road safety behaviours and more. When it comes to road safety we all have a role to play.
Last updated 20 July 2023