Transport Inspectors
Transport Inspectors are highly trained employees of the Queensland Government—they play an important role in contributing to Safer Drivers, Safer Vehicles and Safer Roads, and also protecting the state's valuable road infrastructure.
Transport Inspectors perform a wide range of functions including:
providing information and education to industry and road users
programmed Vehicle Inspections of passenger transport and heavy vehicles at Transport and Main Roads inspection centres
audits and investigations of Approved Inspection Stations
mass, dimension and loading checks on heavy vehicles
load restraint checking on light vehicles
undertake safety inspections in relation to light vehicles
checking and enforcement of oversize/over mass loads
checking of dangerous goods loads
passenger (buses and tour operators) and personalised (taxi, limousine and ride share) transport checking and enforcement
investigation of some tow truck complaints
disaster management and asset protection.
Transport Inspectors use body worn cameras to capture interactions with members of the public while performing their duties. A Transport Inspector will identify themselves, show the identification card, explain the reason for the interaction, and advise you that the interaction is being recorded for transparency and accountability.
Transport Inspector powers
Transport Inspectors have broad powers relating to intercepting and examining vehicles, including heavy vehicles. They operate within strict guidelines and they can issue substantial on-the-spot fines for a range of offences. They can also report matters for court action.
What can Transport Inspectors do?
Transport Inspectors have the authority to:
intercept all vehicles to carry out safety inspections, check registration and compulsory third party insurance and check load restraints
check heavy vehicle drivers' work diaries
check passenger transport vehicles for drivers' authorisation and operator accreditation.
Under the National Heavy Vehicle Regulator, Transport Inspectors will continue to contribute to the safety of Queensland drivers and protecting the state's road infrastructure in relation to heavy vehicles.
For more information, download the Transport Inspectors fact sheet.
Please remember: You are legally required to assist Transport Inspectors in performing their duties. You may be required to provide your name and address and produce identification such as a driver's license or a passport. Transport Inspectors may also require access to your vehicle for safety checks.
For more information, download the Transport Inspectors and heavy vehicle safety fact sheet.
Recognising a Transport Inspector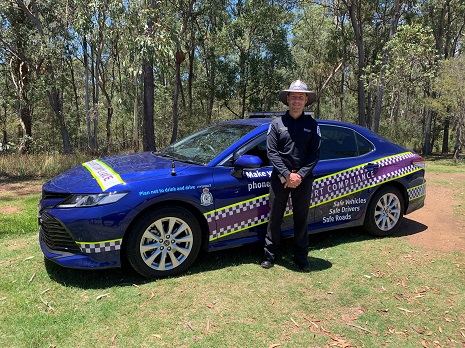 Transport Inspectors are easily recognised—they wear a navy blue Transport Inspector uniform. In some cases they may work out of uniform, however in all cases they will carry and produce an official badge and Government identification.
The magenta, white and yellow decals on Transport Inspector vehicles make them easy to identify.
Truckie Toolbox Talks
In a commitment to helping the heavy vehicle industry to meet their road safety obligations, the Department of Transport and Main Roads hosts educational Truckie Toolbox Talk sessions each year around the state. These events provide an opportunity for truck drivers and operators to speak openly with Transport Inspectors on a wide range of industry topics—from regulations and accreditations to permits, mass limits, fatigue management and more.
For more information about Truckie Toolbox Talks, contact us on 13 23 80.
Safe Drive
Road safety is a serious issue in Queensland. Safe Drive is a statewide compliance operation where Transport Inspectors randomly intercept and check light vehicles, including private cars, to ensure they are mechanically safe during the school holidays.
School holidays are a busy time where families travel more in their vehicles. Transport Inspectors help families reach their destination safely.
It is the vehicle owner's responsibility to ensure the vehicle is safe. A simple check can save lives—make sure you check:
brakes
tyres
lighting
steering suspension
windscreen.
Also make sure you have current registration and compulsory third party insurance.
For more information, download the check your vehicle and stay safe fact sheet.
Transport Inspectors and road closures
The Department of Transport and Main Roads aims to keep Queensland drivers and their families safe on our roads. During disasters, it is important that freight routes remain open and essential supplies reach communities in need. The Transport Inspector and road closures fact sheet explains the role Transport Inspectors have during temporary road closures due to wet weather, flooding or natural disasters and why you must obey their directions.
Transport Inspector road safety posters
How to become a Transport Inspector
Recruitment for Transport Inspectors occurs as required. All applicants must advance through strict criminal history checks to be successful. Successful applicants will either commence immediately or be placed in a 'pool' that can be drawn upon when a vacancy arises within 12 months. Transport Inspectors are then required to complete an intensive training program.
Last updated 20 September 2022