Maintenance dredging strategy
Maintenance dredging involves the removal of sediments that have built up in existing channels, berths, approaches, and associated swing basins. It is a vital component of operations in most Queensland ports.
Maintenance dredging is different to capital dredging, which involves the excavation of previously undisturbed areas of sea bed to expand or create new shipping channels, berths or swing basins.
The aim of the Maintenance Dredging Strategy for Great Barrier Reef World Heritage Area Ports is to provide a framework for sustainable, leading practice management of maintenance dredging at ports in the Great Barrier Reef World Heritage Area. The objective of the framework, as depicted on the figure below, is to build on the current strong regulatory requirements and ensure the ongoing protection of the Reef's values and the continued operating efficiency of ports within the Great Barrier Reef World Heritage Area.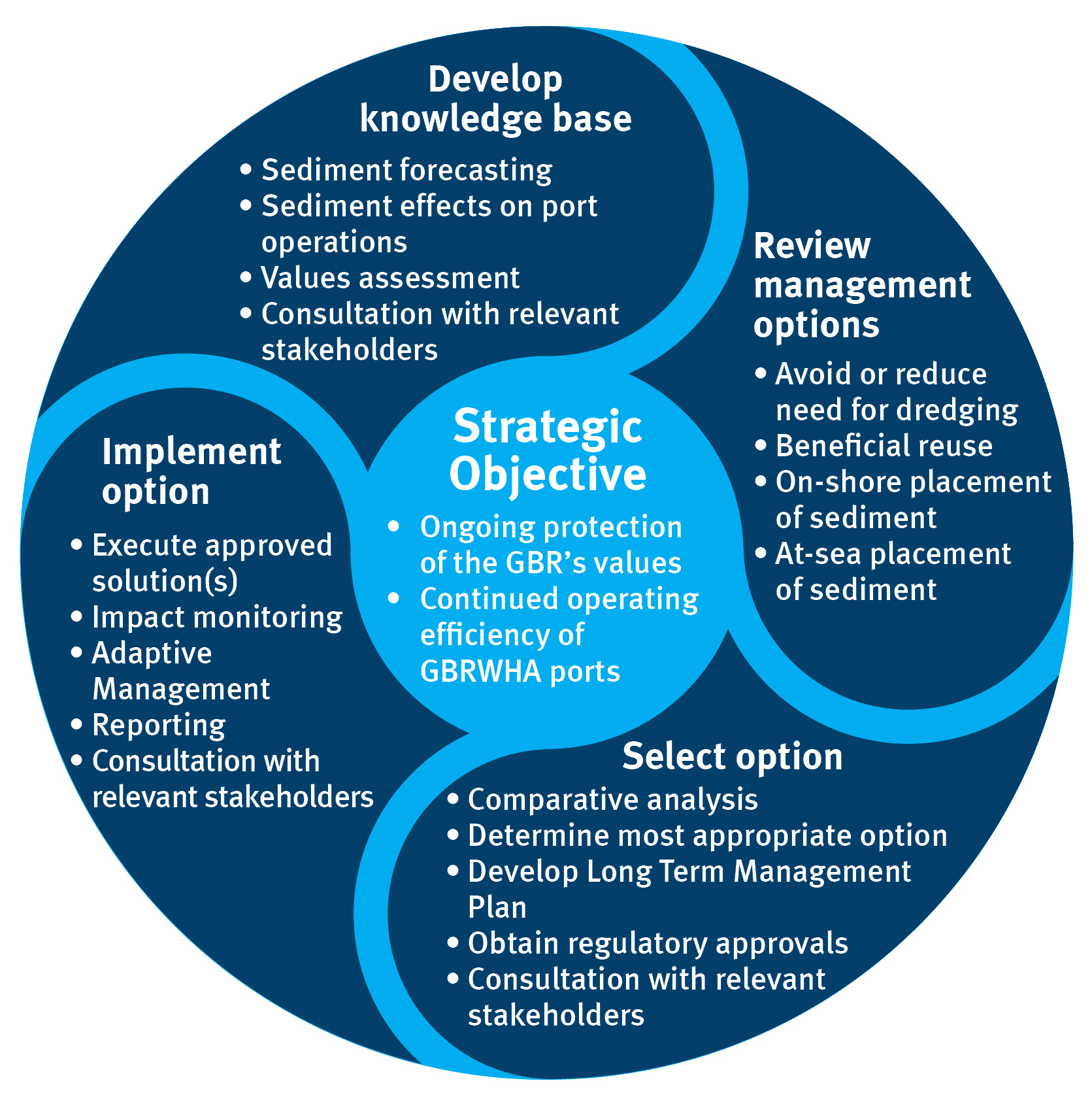 The Strategy has been developed in consultation with the port authorities, environmental groups and regulators from the Queensland and Australian Governments.
The Strategy is aimed at improving transparency and consistency, and better managing and lessening the impacts of maintenance dredging. Through the Strategy, it is intended that there will be further improvements in the way maintenance dredging is planned, coordinated and regulated to ensure minimal impact on the Reef and other marine environments. It also aims to improve the transparency of the process by requiring improved levels of consultation, monitoring and reporting.
The Strategy sets out key guiding principles and actions based on the framework that will be adopted to ensure maintenance dredging continues in an environmentally sustainable manner and provides efficient navigation within Great Barrier Reef World Heritage Area ports.
The Strategy is based on the findings of a Technical Supporting Document providing a scientific and technical evidence basis for the guiding principles and actions.
Last updated 18 November 2022