Ports
Queensland has an extensive network of 21 ports along its coastline, ranging from small community ports to world-class coal export terminals and a capital city multi-cargo port.
The ports are a major component of Queensland's supply chain and economy, facilitating trade and the development of the regional, state and national economies.
The ports are currently managed by 4 government-owned corporations, a private company for the Port of Brisbane and Rio Tinto Limited managing the Chith Export Facility servicing the Amrun bauxite mine in Far North Queensland.
In 2021–22, the Queensland port system's total trade throughput was 337.4 million tonnes.
Source: Queensland port managers/owners (including Port of Brisbane Pty Ltd and Rio Tinto)
Further statistical data is available from a range of locations:
Questions about Queensland port trade data can be sent via email to porttradestatistics@tmr.qld.gov.au.
See port locations across Queensland in the map below.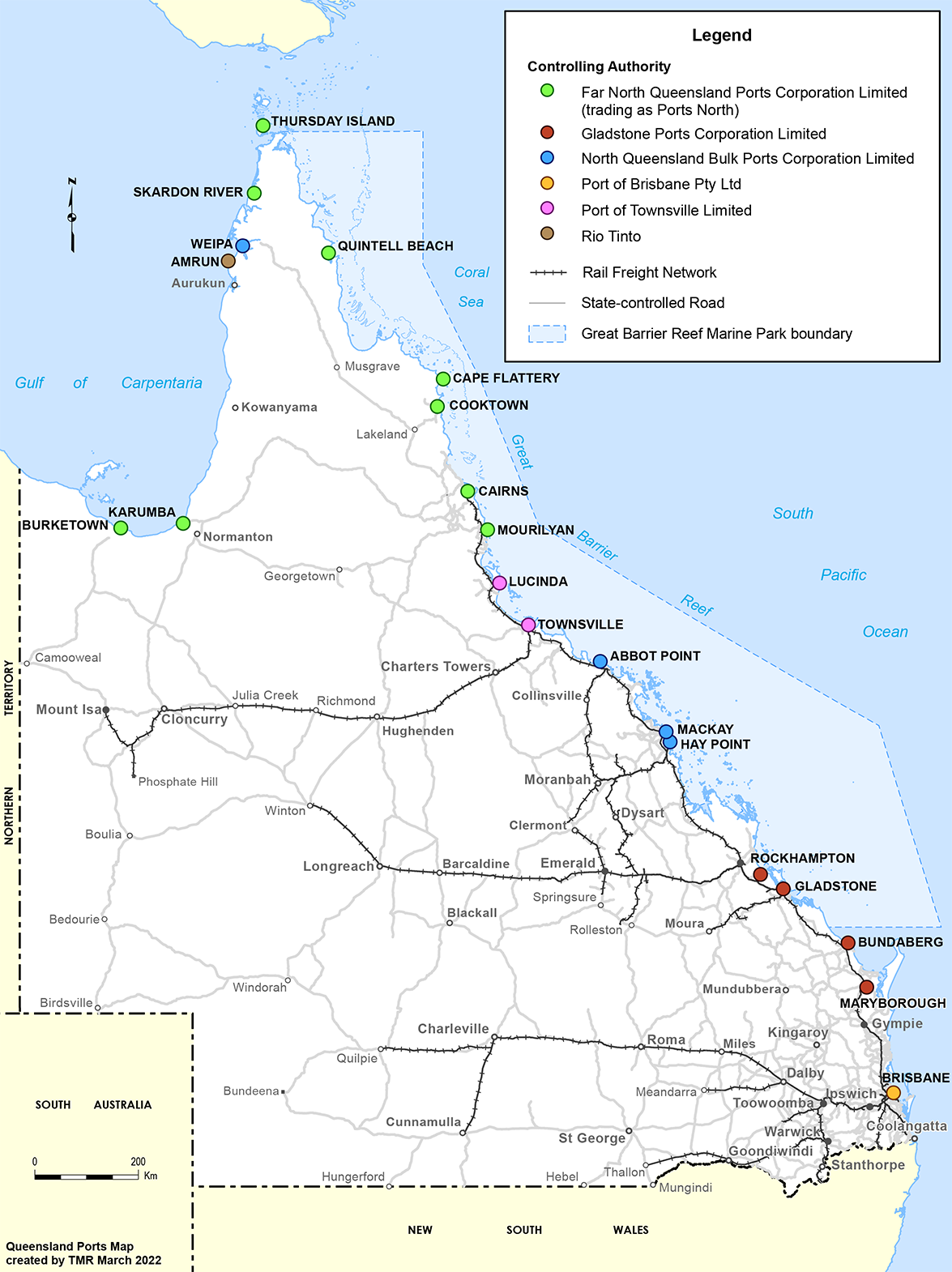 Map showing port locations across Queensland
Why are our ports important?
Maritime gateways
In 2021–22, there were 9,081 trading vessel visits to Queensland's maritime ports.
Source: Queensland port managers/owners (trade ships only, cargo carrying vessels)
Growing our economy
In 2021–22, imports and exports worth $172.2 billion moved through Queensland's maritime ports.
Source: www.qgso.qld.gov.au
Servicing the shipping industry
Port marine and shipping services move cargo from road and rail to sea, linking Queensland to the Asia Pacific and beyond.
Supporting regional industries
Facilitating local trade and development, providing infrastructure for the trade of minerals and agriculture from our regions.
Sustaining coastal communities
Connecting and sustaining our remote and indigenous communities.
Supporting tourism
Queensland is a favoured destination for cruise ships.
National defence and security
Ports support Australia's national defence and security and provide a vital lifeline during times of disaster and emergency.
Last updated 12 July 2023