Our Director-General
Neil Scales
Director-General
Department of Transport and Main Roads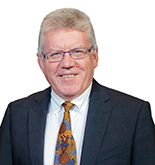 As Director-General, Neil leads the Department of Transport and Main Roads (TMR),
with an annual budget of $10.5 billion, including capital expenditure of $4.5 billion and managed assets worth in excess of $92 billion. The Department develops and delivers QTRIP, which is a four-year program released annually outlining current and planned investments in transport infrastructure. The program of works detailed in QTRIP represents a $29.7 billion investment over four years in road, rail, bus, cycling and marine infrastructure on freight, commuter and recreational networks.
Neil joined the Queensland Public Service in March 2012 as Chief Executive Officer (CEO) of TransLink where he was responsible for the public transport network across Queensland. He was appointed Director-General of TMR in March 2013.
In September 2014, Neil became Commissioner for the National Transport Commission (NTC) and joined the Roads Australia Board in November 2014. Neil is Chair of Austroads and Deputy Chair of the Australian Road Research Board. He is also a board member of the Tourism and Transport Forum, the Australian Centre for Rail Innovation, and Police- Citizens Youth Clubs (PCYC) Queensland.
In September 2014, Neil became Government Champion for the Woorabinda Indigenous community. From 2015–2017, Neil was the Queensland Public Sector's CEO Champion against domestic and family violence. In 2017, Neil won the Australia's CEO Challenge Race, a fundraising initiative that raises money and awareness for domestic and family violence prevention.
Neil became Acting CEO for Queensland Rail in October 2016, returning to the Director- General role at TMR in April 2017.
In 2019, Neil successfully completed the Vincent Fairfax ethical leadership course.
In 2021, Neil was awarded the Roads Australia John Shaw Medal in recognition of his outstanding contribution to roads in Australia.
Career overview
Prior to joining TransLink, Neil was one of the United Kingdom's (UK) most senior public transport executives. He was Chief Executive and Director-General of Merseytravel, the transport authority for Merseyside in the north of England.
In this role, he was responsible for some 200 million passenger journeys every year by train, bus and ferries and the two Mersey Tunnels. He is credited for reversing the fortunes of Merseytravel, which is now recognised as one of the best transport authorities in the UK.
Neil has served as a Trustee of Museums and Galleries of Merseyside, a member of the British Transport Police Authority and an Integrated Transport Commissioner.
Neil has held executive roles with transport and engineering companies and has consultancy experience with several organisations, including the World Bank and the European Commission.
Last updated 04 August 2022