TMR's Customer Value Proposition
TMR's Customer Value Proposition was developed in 2015—researched, co-designed and tested with our customers, our stakeholders and our people. It summarises what our customers have told us is important in their dealings with TMR and the transport network.
Customers have told us they want customer care that is respectful and responsive, a user experience that is affordable and efficient and information that is timely and accurate.
A lot has happened since 2015, including changes in transport and digital technologies. We are working closely with QUT to check in with our customers, to re-evaluate the value that customers seek from TMR. This information is gathered through customer surveys, interviews and workshops—where we are finding out more about how we can meet changing customers' needs, challenges and opportunities.
Watch this space to see what the findings of this research means for our Customer Value Proposition.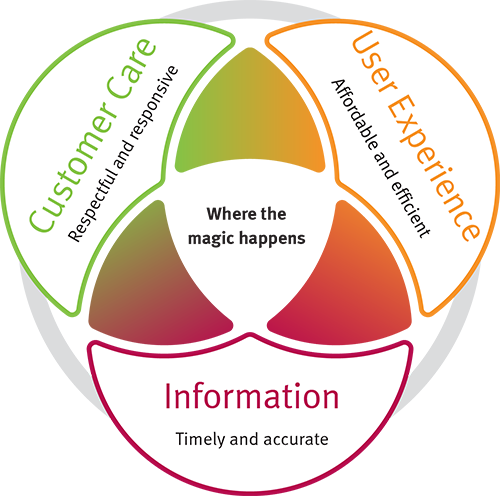 Our Customer Value Proposition is a triple bottom line that ensures that we work together to provide our customers with a seamless experience, regardless of which part of the department they are dealing with and regardless of transport mode.
Our TMR Customer Charter was also co-designed with our customers, our stakeholders and our people. It clearly articulates our commitments to the people of Queensland.
To find out more, please visit our Customer Charter page.
Last updated 15 June 2021