South East Queensland's Rail Horizon
South East Queensland's Rail Horizon outlines the strategic priorities for the region's rail network, which include optimising the existing network, upgrading services and infrastructure and delivering critical new infrastructure.
Putting the customer first
The Queensland Government is committed to revitalising and transforming south east Queensland's rail network so it can meet the challenges of a growing population and provide customers a high performing rail service.
South East Queensland's Rail Horizon aligns with the Queensland Government's desired outcomes for the community and the objectives of the Queensland State Infrastructure Plan 2016:
Improving prosperity and liveability.
Infrastructure that leads and supports growth and productivity.
Infrastructure that connects our communities and markets.
Providing sustainability and resilience.
Delivering an accessible, safe and reliable transport system in Queensland is a priority. By 2036, the population of south east Queensland is forecast to reach almost 4.9 million people. This will place increasing pressure on our transport system, particularly in growth corridors and where the system converges in the Brisbane CBD.
South East Queensland's Rail Horizon outlines network solutions, including the Queensland Government's highest priority infrastructure project – Cross River Rail – which is core to this long-term rail network strategy.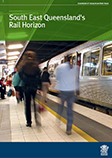 Download the South East Queensland's Rail Horizon blueprint.
Last updated 22 February 2021