Beams Road (Carseldine and Fitzgibbon), rail level crossing, funding commitment
The Beams Road rail level crossing project will reduce congestion and address safety concerns. The current rail level crossing on Beams Road will be replaced with an overpass to separate road and rail.
Beams Road is an important local road that connects communities in the northern suburbs of Brisbane. It currently experiences significant congestion at the rail level crossing, particularly during peak hours.
An overpass upgrade to the rail level crossing will:
improve travel times and reliability for rail and road users
reduce congestion
improve safety and access.
Upgrades to the Beams Road level crossing will also be integrated with the Carseldine station park 'n' ride upgrades.
In order to accelerate works, the upgrade of the Carseldine station park 'n' ride will commence in late June 2022. Works will include building the new access from Balcara Avenue, in order to minimise disruption to park 'n' ride customers once construction of the overpass commences in 2023.
The department will work closely with the community to keep them informed as the project progresses.
Benefits
Improves safety
Improves network efficiency
Reduces peak hour congestion
Reduces travel time
Contributes to economy
Increases traffic flow
Improves ride quality
Key features
A new overpass bridge.
Removal of existing rail level crossing boom gates.
Paths for walking and bike riding.
Funding
The Queensland Government committed $119.33 million towards this project. The Australian Government committed $50 million towards this project in October 2020. Brisbane City Council has committed $40 million towards this project.

Investment ID: 774086 and 1700001
Total investment

$209.33 million
Australian Government

$50 million
Queensland Government

$119.33 million
Local Government

$40 million
Current status
The business case was finalised in late 2021. This was developed with input from Queensland Rail and Brisbane City Council.
Beams Road is a local road controlled by the Brisbane City Council. The design and construction of the Beams Road overpass are subject to council approvals and project funding.
Community consultation
In September and October 2020, community consultation was undertaken on the proposed design for the overpass project. Over 150 pieces of feedback were received from individuals, businesses and organisations.
Feedback received supported the proposed overpass design option.
Thank you to everyone who participated in engagement process and provided feedback. Feedback from the community and stakeholders is being used to shape the final design. Read the consultation summary for more information.
Project map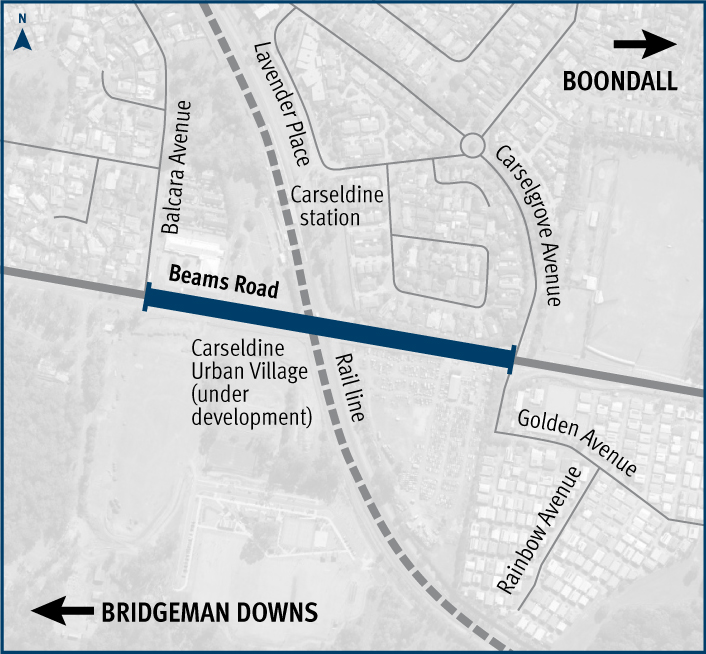 Beams Road upgrade (Lacey Road to Handford Road)
Brisbane City Council is planning to upgrade Beams Road between Lacey Road (at Carseldine and Fitzgibbon) and Handford Road (at Taigum and Zillmere). The upgrade will improve safety for all road users and the efficiency of the road corridor. The upgrade will also improve pedestrian and cycling facilities and connectivity.