Gympie – Brooloo Road, design active transport crossings
Detailed design is underway for active transport bridge structures and pathway to provide connectivity of the Principal Cycle Network from Gympie's southside into the Gympie CBD and surrounds.
Design activities for the project are funded under the Active Transport Investment Program (ATIP), which delivers infrastructure that supports a safe, direct and connected cycling network.
The project aims to provide stand-alone-structures and connecting pathways for the use of bike riders and pedestrians, across the Mary River and Bruce Highway, just north west of the existing Normanby Bridge.
Benefits
Improves safety
Accessibility
Better active transport
Key features
Improve safety and amenity for pedestrians and bike riders.
Improve connectivity for pedestrians and bicycle riders from Gympie southside into the Gympie CBD and surrounds.
Complete a missing link on the Gympie Principal Cycle Network.
Funding
Investment ID1983825
Total investment

$1.3 million
Queensland Government

$1.3 million
Current status
We are currently undertaking detailed design.
Community consultation during the detailed design phase commenced in October 2021 and has now closed.
There is currently no funding allocated to construct this project.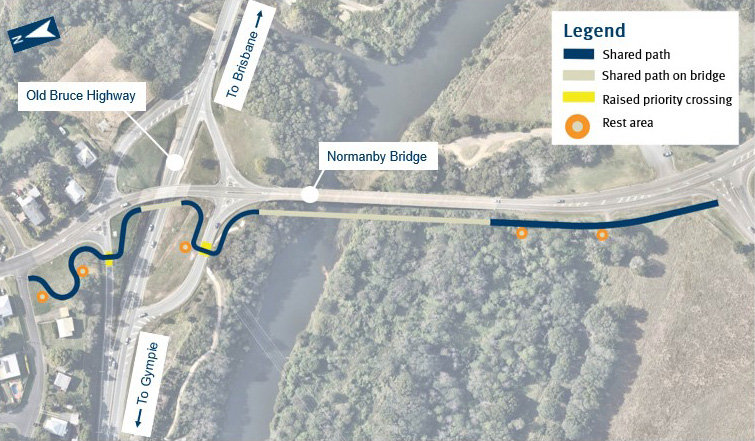 1. Proposed active transport crossing location