Strathpine - Samford Road (Eatons Crossing Road and Mount Samson Road), improve intersection and route safety
Design is nearing completion for safety improvements on Strathpine-Samford Road between Eatons Hill and Samford Valley.
Intersection modifications and road widening along Strathpine-Samford Road (locally known as Eatons Crossing Road), improving safety for all road users.
Strathpine-Samford Road is a busy main road connecting Eatons Hill to Samford. Between 7,000 and 14,000 vehicles use various sections of this road every day.
A route safety study of the full length of Strathpine-Samford Road was finalised in late 2019. A number of safety treatments were recommended to form the Strathpine-Samford Road Route Safety Project.
The proposed improvements include an upgrade of the Eatons Crossing Road and Lilley Road intersection to a signal-controlled intersection, as well as safety improvements to a number of other intersections along the corridor.
Other improvements include road widening which will improve active transport by allowing for sealed shoulders with bike symbols and intersection conflict points marked with green paint and bike symbols, wide centre line treatment and new police enforcement bays. The installation of safety barriers and the removal of roadside hazards, such as obstructing vegetation, will also be included.
Design is being done in 2 packages:
Package A: Between Queens Elizabeth Drive, Eatons Hill and Cedar Creek, Draper
Package B: Between Cedar Creek to just north of Serendipity Drive, Samford Valley.
Benefits
Improves safety
Improves network efficiency
Better active transport
Increases traffic flow
Contributes to economy
Key features
Signalising the Eatons Crossing Road and Lilley Road intersection, Warner.
Widening Strathpine-Samford Road just west of Queen Elizabeth Drive to Gibbons Road.
Installing a wide centre line treatment to provide additional separation between vehicles travelling in opposite directions.
Shoulder widening to provide additional trafficable area to pull over, assist emergency vehicles to pass, accommodate wide vehicles and greater separation between cars and bike riders.
Providing safety barriers at various locations and removing roadside hazards (including necessary vegetation clearing).
Modifications at several intersections including dedicated right-turn lanes at Dawneta Court, Albion Road, Lascelle Court, Boland Court, Hodge Road, Lergessner Road, Lawson Road, Alpine Drive and Gibbons Road.
Installing a dedicated left-turn lane at Clear Mountain Road, Hodge Road, Lergessner Road, Alpine Drive and Gibbons Road to separate turning vehicles from through-traffic lanes.
Improved bike rider safety with 2m wide shoulders marked with bike symbols and intersection conflict points marked with green paint and bike symbols.
Provision of new police enforcement bays at identified locations.
Funding
This project is fully funded by the Queensland Government under the Targeted Road Safety Program. Investment ID 1572868


Total investment

$57 million
Queensland Government

$57 million
Current status
The proposed design for Package A was released in August 2021, and a proposed design for Package B was released in January 2022. The design for both packages is nearing completion. Construction is expected to start in mid-2023, weather and construction scheduling permitting.
Project location map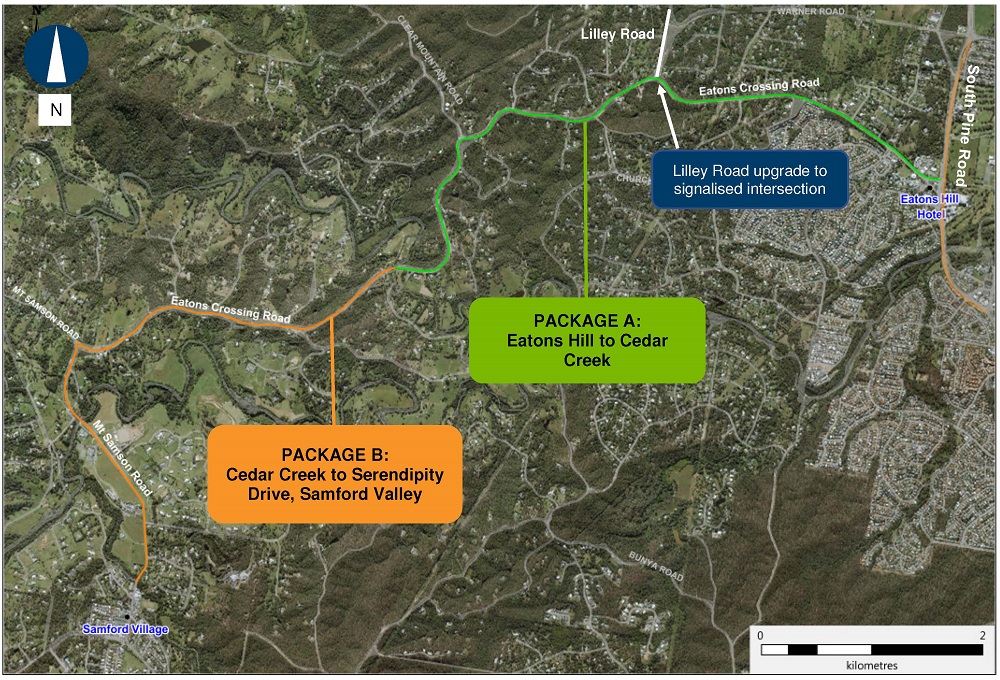 Package A map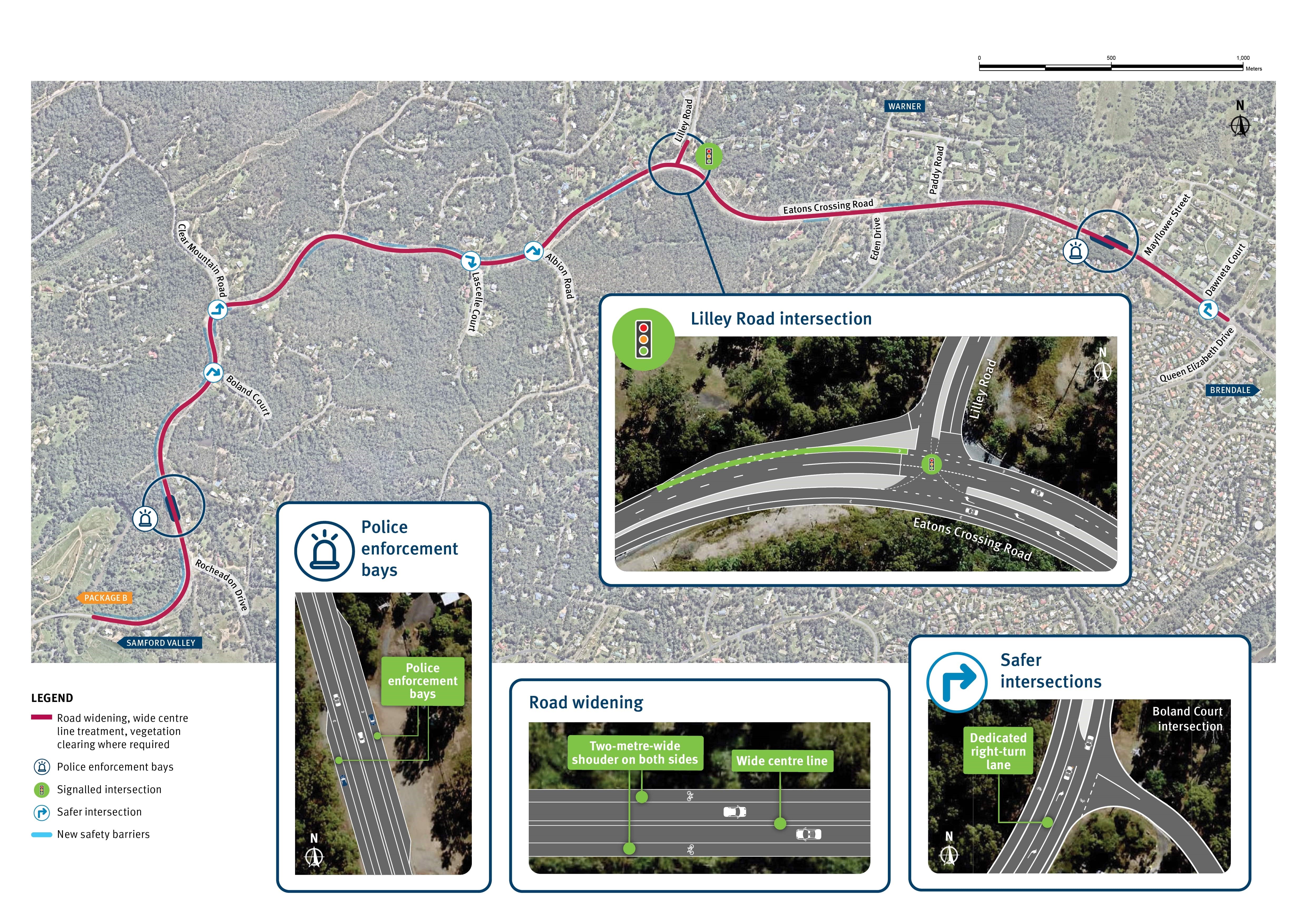 Package B map