Access to Gladstone Port project
We are progressing a project to provide an alternate route for heavy vehicles accessing the Port of Gladstone to increase freight efficiency and improve safety for local motorists.
The Port of Gladstone is experiencing continued and substantial growth in activity, driving an increase in traffic on the nearby road network shared by heavy vehicles and everyday traffic.
As the port is surrounded by Gladstone's city centre and inner suburbs, managing the ongoing increase in heavy vehicle movements with general traffic is essential to the long-term economic development and liveability of the area.
With the project in the initial planning phase, 2 route options have been identified for further investigation.
Community feedback was invited on the 2 options with online consultation closing on 29 October 2020. All feedback received has been recorded and is being considered as part of ongoing planning activities.
Benefits
Improves safety
Improves network efficiency
Increases traffic flow
Reduces peak hour congestion
Reduces travel time
Contributes to economy
Contributes to regional growth
Key features
Improved freight efficiency of heavy vehicles travelling to the Port of Gladstone
Increased safety for all road users by reducing conflict between heavy vehicles and local traffic
Improved traffic flow by easing congestion
Enhanced connectivity between the Gladstone city, Gladstone State Development Area (GSDA) and the highway network including the Bruce Highway, Dawson Highway and Capricorn Highway.
Why this project is needed
The Port of Gladstone is the largest multi-commodity port in Australia and one of the nation's busiest ports, with over 100 million tonnes of throughput per year. Activity at the port has contributed to an increase in traffic on the connecting road network. The port is bordered by Gladstone's city centre and inner suburbs, so effectively managing the increase in traffic is essential to support the long-term economic development and liveability of Gladstone. Improving road connections to the port is essential to supporting the industries that rely on it, such as mining, agriculture, and other export industries.
Current status
The project is in the planning phase. This involves:
community consultation (online consultation closed on 29 October 2020)
transport modelling and analysis
studying accident history and congestion hot spots
environmental and cultural heritage investigations
engineering investigations
assessments on geometry, public utility plant, geotechnical conditions, hydraulics and hydrology, acoustics, structures and pavement investigations.
The end product of the planning phase is the project's business case. The business case will report the results of the planning phase and identify the preferred route option and why it was chosen. The business case is expected to be finalised and approved in early 2021.
Project planning options
In March 2020 we began planning to identify and investigate options to improve road access to the port and improve network efficiency for all road users. Using a previous options analysis from 2013, multiple options were compared against strict selection criteria for the project objectives. Of these options, 2 were chosen to be examined in the business case:
Option A: identifies the Gladstone-Mount Larcom Road corridor as a potential access route for targeted upgrades. Upgrading this existing road corridor would provide the key link needed for freight movements servicing Gladstone's industrial estate while diverting heavy vehicles away from residential areas.
Option B: identifies a new Gladstone Port Access Road corridor and Blain Drive corridor (a local government road) as a potential access route for targeted upgrades. This option involves a new road corridor running parallel to the Dawson Highway to act as a dedicated freight link, to remove heavy vehicles from local roads and provide the most direct route to and from the port. This option was identified in 2013 as part of planning for Gladstone Port Access Road Extension (GPARE) Stage 2 and 3.
The findings of the planning phase will be presented in the project's business case. A business case sets out the need for a project, the problem or opportunity it will address, and considers options, analyses costs, benefits and risks, and ultimately aims to support an investment decision. The Australian Government has invested $2 million to fund the project's planning phase—as part of the funding requirements, we were required to identify 2 options based on technical and commercial assessments as part of the business case.
Project map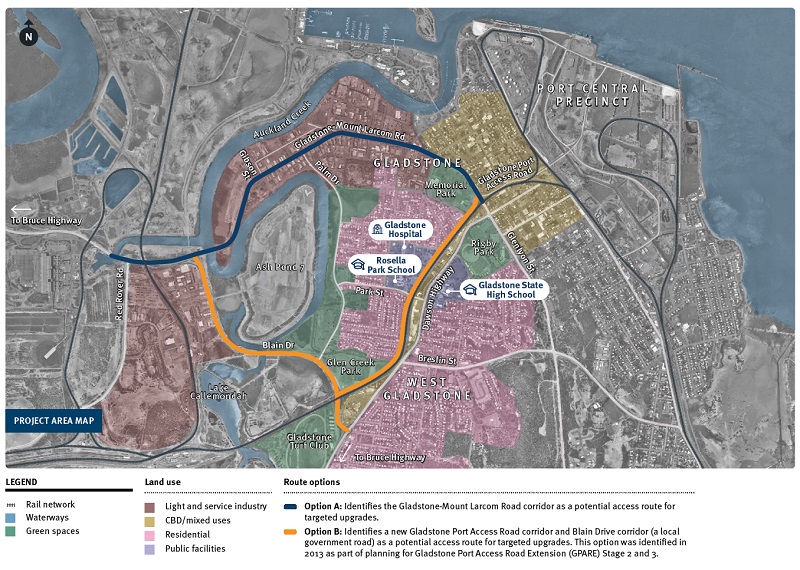 Community engagement
Community feedback was invited on the 2 route options identified for the project with online consultation closing on 29 October 2020.
We appreciate all feedback provided. Each item has been recorded and is being used to inform the preparation of the project's business case.
Project impacts
Environmental considerations
Protecting the environment forms an important part of planning for all new road and infrastructure projects. We are undertaking comprehensive investigations, including various environmental and cultural heritage surveys. Findings from the field studies will help determine what mitigation strategies are required to protect important environmental areas in the vicinity of the preferred alignment. Planning will ensure the project complies with all relevant environmental protection and cultural heritage legislation.
Cultural heritage
We recognise the significance of different cultures and the importance of managing Indigenous, historical, shared and natural heritage.
Aboriginal heritage
We will work with the Gurang, Gooreng Gooreng, Bailai and Taribelang Bunda people to plan and deliver the project, taking into account important cultural considerations for the local community and areas of cultural significance. We will comply with Duty of Care provisions under relevant legislation to ensure all reasonable and practicable measures to avoid harming Aboriginal heritage.
Historical heritage
We will comply with relevant legislation to the conservation of historical and cultural heritage by protecting all places and areas entered in the Queensland Heritage Register. We will also do everything reasonable and practicable to protect unregistered places where warranted.
Integration with other area projects
This project will integrate with a number of major infrastructure projects already completed or underway to further improve regional freight efficiencies and safety for all road users, including:
the $40 million Dawson Highway Timber Bridge Replacement Project completed in 2018. The project replaced 5 timber bridges between Calliope and Biloela with new concrete structures. The upgrade resulted in previous weight limitations on the bridges being lifted, providing improved freight access along the highway.
the $14.2 million Dawson Highway (Gladstone–Biloela) Bridges Strengthening, Pavement Widening and Rehabilitation Project that is improving further bridges along this section of highway and widening 3km of road. This project is in construction with completion expected late 2020.
the $24.4 million Gladstone-Benaraby Road (Dalrymple Drive to Bruce Highway intersection) Project is being delivered in 2 stages and includes 14km of wide centre line treatment in sections along the road as well as the removal of safety hazards from within the road corridor.
Project works also include reconfiguring the Rifle Range Road intersection, upgrading accesses and resurfacing of the Philip Street and Glenlyon Road roundabout approaches. Stage 1 was completed in 2019 with Stage 2 works underway and due for completion in late 2020.
Funding
The Australian Government has committed $2 million to fully fund the current planning works and $100 million to deliver the project.
It is anticipated the future design and construction phases would be funded on an 80:20 basis by the Australian and Queensland governments.