Gympie Arterial Road and Strathpine Road (Bald Hills), improve intersection
Construction is underway to address safety and congestion concerns at the Gympie Arterial Road and Strathpine Road interchange at Bald Hills.
The project design will transform this interchange into a diverging diamond interchange, an innovative intersection design that will reduce congestion, improve travel times and improve safety.
The new diverging diamond interchange is the third of its kind in Queensland and while unfamiliar to many drivers, will be easy to navigate. The department will engage with road users to help them understand how to navigate the intersection.
The local community will be kept informed as the project progresses.
Benefits
Improves safety
Increases capacity
Reduces travel time
Reduces peak hour congestion
Contributes to economy
Key features
The new innovative diverging diamond interchange system allows free flowing turns when exiting and entering Gympie Arterial Road.
The interchange reduces the number of conflicts with opposing traffic on Strathpine Road resulting in less traffic signal phases, making the interchange safer and more efficient.
A diverging diamond interchange is cost-effective to construct and has reduced impacts on local residents compared to a traditional interchange because of its smaller footprint.
The Gympie Arterial Road and Strathpine Road diverging diamond interchange will be the third in Queensland, behind the Caloundra Road and Bruce Highway and the Pacific Motorway (M1) Varsity Lakes to Burleigh diverging diamond interchanges.
Funding
The Australian Government, under the Urban Congestion Fund, has committed to jointly fund (50:50) $30 million for the Gympie Arterial Road and Strathpine Road interchange upgrade with the Queensland Government. Investment ID 703296
Total investment

$30 million
Australian Government

$15 million
Queensland Government

$15 million
Current status
Construction is underway.
Traffic updates
In April 2022, the upgrade will switch into the diverging diamond interchange traffic arrangement. To learn how to navigate the new intersection, watch the flythrough or read the community update and map.
Traffic controls will be in place and road users are asked to obey temporary speed limits and follow the signed detours. We apologise for delays and encourage road users to allow extra time when planning travel.
The project team will also utilise SMS updates to locals and QLDTraffic website alerts for ramp closures. If the project team already has your mobile phone number, you will be automatically added to the SMS contact list (the SMS will include an unsubscribe option).
If you would like to be added to the project SMS list please confirm your name, mobile phone number and address by email to metropolitanregion@tmr.qld.gov.au.
Features of the diverging diamond intersection upgrade

Updated traffic conditions on the Gympie Arterial Road and Strathpine Road Interchange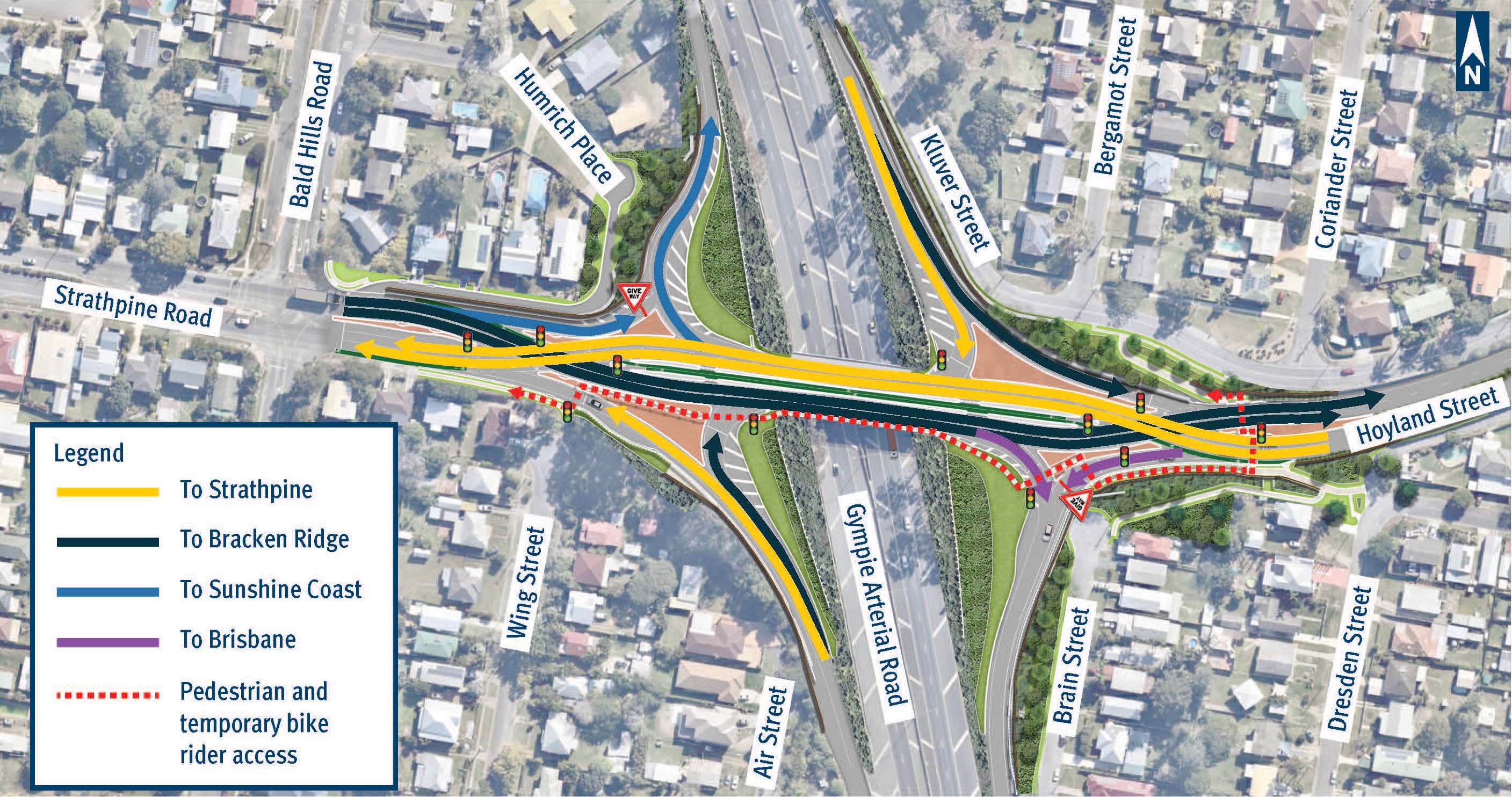 Flythrough for the Gympie Arterial Road and Strathpine Road Intersection traffic changes 
Video Transcript
00:00:00 to 00:00:04
On screen text: Gympie Arterial Road and Strathpine Road interchange upgrade, Bald Hills.

00:00:04 to 00:00:06
Aerial view of the intersection.

00:00:08 to 00:00:17
Zooming in slowly of the view of the intersection.

00:00:17 to 00:00:20
Aerial view of traffic travelling east along Strathpine Road.

00:00:20 to 00:00:22
On screen text: Strathpine Road (left) Gympie Arterial Road (middle) and Hoyland Street (right).

00:00:23 to 00:00:27
Motorists driving past Astley Street intersection.

00:00:31 to 00:00:35
On screen text: New Signals at Attley Street intersection will help with traffic flow.

00:00:38 to 00:00:42
On screen text: Strathpine Road.

00:00:45 to 00:00:47
Traffic travelling east along Strathpine Road.

00:00:48 to 00:00:50
Aerial view of traffic travelling through the Bald Hills Road and Strathpine Road intersection.

00:00:51 to 00:00:55
On screen text: Bald Hills Road.
Aerial view of the intersection.

00:00:56 to 00:01:01
On screen text: Humrich Place and Wing Street.
Aerial view of the intersection.

00:01:02 to 00:01:04
Aerial view zooming in on traffic travelling through the intersection.

00:01:04 to 00:01:06
Aerial view of the interchange.

00:01:06 to 00:01:10
On screen text: Gympie Arterial Road northbound towards Sunshine Coast.
On screen text: Gympie Arterial Road southbound towards Brisbane.
Aerial view of the interchange.

00:01:16 to 00:01:18
On screen text: Kluver Street
Focusing in on Kluver Street, Bald Hills.

00:01:18 to 00:01:20
On screen text: Brain Street
Focusing in on Brain Street, Bald Hills.

00:01:29 to 00:01:31
On screen text: Diverging Diamond Interchanges are an innovative interchange designed to increase traffic efficiency and safety for all road users.

00:01:31 to 00:01:32
On screen text: The benefit is right-turning traffic does not have to give way to opposing traffic, making the intersection both safer and more efficient.

00:01:32 to 00:01:43
Green lines showing traffic movement.

00:01:50 to 00:01:51
Diverging Diamond West Bound.

00:01:52 to 00:01:54
On screen text: Diverging Diamond West Bound]
On screen text: Crossing facilities at signals

00:01:54 to 00:01:55
Pedestrian on footpath about to cross at Attley Street, Strathpine Road intersection.

00:01:55 to 00:01:57
On screen text: Left turn lane to Brisbane

00:01:57 to 00:01:58
Travelling west on the overpass bridge.

00:01:58 to 00:02:00
Motorists travelling on the interchange.

00:02:05 to 00:02:10
On screen text: Right turn lane to Sunshine Coast
Motorists travelling on the intersection.

00:02:15 to 00:02:17
On screen text: Diverging Diamond Eastbound
Motorists travelling east bound over the interchange.

00:02:17 to 00:02:19
On screen text: Left turn lane to Sunshine Coast

00:02:26 to 00:02:30
Motorists are traveling on the overpass while pedestrians walk along the footpath. Bicycle riders on the on-road bicycle path travelling west on the overpass.

00:02:33 to 00:02:35
On screen text: Right turn lane to Brisbane

00:02:35 to 00:02:37
Pedestrian walking on footpath on the overpass bridge. Another bike rider travelling along the overpass

00:02:37 to 00:02:40
Motorists travelling over the interchange using the new operation method.

00:02:44 to 00:02:46
Motorists travelling northbound.

00:02:46 to 00:02:49
On screen text: Gympie Arterial Road northbound exit ramp to Hoyland Street

00:03:09 to 00:03:12
Motorists merging from the north-east on-ramp to Strathpine Road.

00:03:15 to 00:03:17
On screen text: Active Transport Provisions. Safer Access for pedestrians and cyclists.
Aerial view of the main intersection.

00:03:18 to 00:03:21
On screen text: On-road cycle lanes
Green highlight of on-road bicycle routes.

00:03:23 to 00:03:25
On screen text: Pedestrian paths

00:03:26 to 00:03:29
Pedestrian paths are highlighted on the southern side in orange.

00:03:29 to 00:03:33
On screen text: Signalised pedestrian crossings
Pedestrian paths are highlighted on the southern side in orange.

00:03:38 to 00:03:41
On screen text: On-road Cycle Lane Eastbound
Signalised pedestrian crossings are highlighted with a white circle.

00:03:42 to 00:03:43
On-road bicycle ramp on the overpass bridge.

00:03:43 to 00:03:51
Bike riders travelling over the overpass bridge.

00:03:51 to 00:03:53
Yellow bollards on the on-road bike paths.

00:03:57 to 00:03:59
Motorist and bicycle riders travelling along the intersection and merging on to the exit ramps.

00:04:00 to 00:04:02
Aerial view of interchange.

00:04:02 to 00:04:04
Aerial view circulating the interchange.

00:04:11 to 00:04:15
On screen text: New intersection will help traffic flow.

00:04:44 to 00:04:47
On screen text: Gympie Arterial Road and Strathpine Road